Outdoor perimeter security is a facility's first line of defense against attack, sabotage, property theft or harm to personnel. Selecting the right detection solution is vital to protecting your critical infrastructure and assets. With so many fence sensors in the marketplace, comparing the available options can be a daunting task. How can you identify the most appropriate solution for your application, and what factors are critical to consider during this decision-making process?
This 60-minute webinar will explore common fence sensor types, highlight key installation, maintenance and performance considerations and debunk common misconceptions about fence detection technologies – arming you with the tools to make an informed decision when specifying or purchasing a detection system.
UNDERSTAND the capabilities of different fence detection sensors in today's marketplace
IDENTIFY sensor performance criteria that ensures high probability of detection and a low nuisance alarm rates
DISCOVER the realities behind common fence sensor myths
This session offers an ideal learning opportunity for end users, consultants, architects, engineers and security systems integrators involved in the specification, design and procurement of outdoor electronic fence detection sensors for perimeter protection.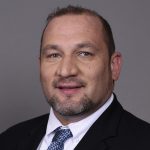 PRESENTED BY
Jeff Drews, CPP, PSP
Sales Manager
U.S. Government / Military / Nuclear Systems
Southwest Microwave, Inc.